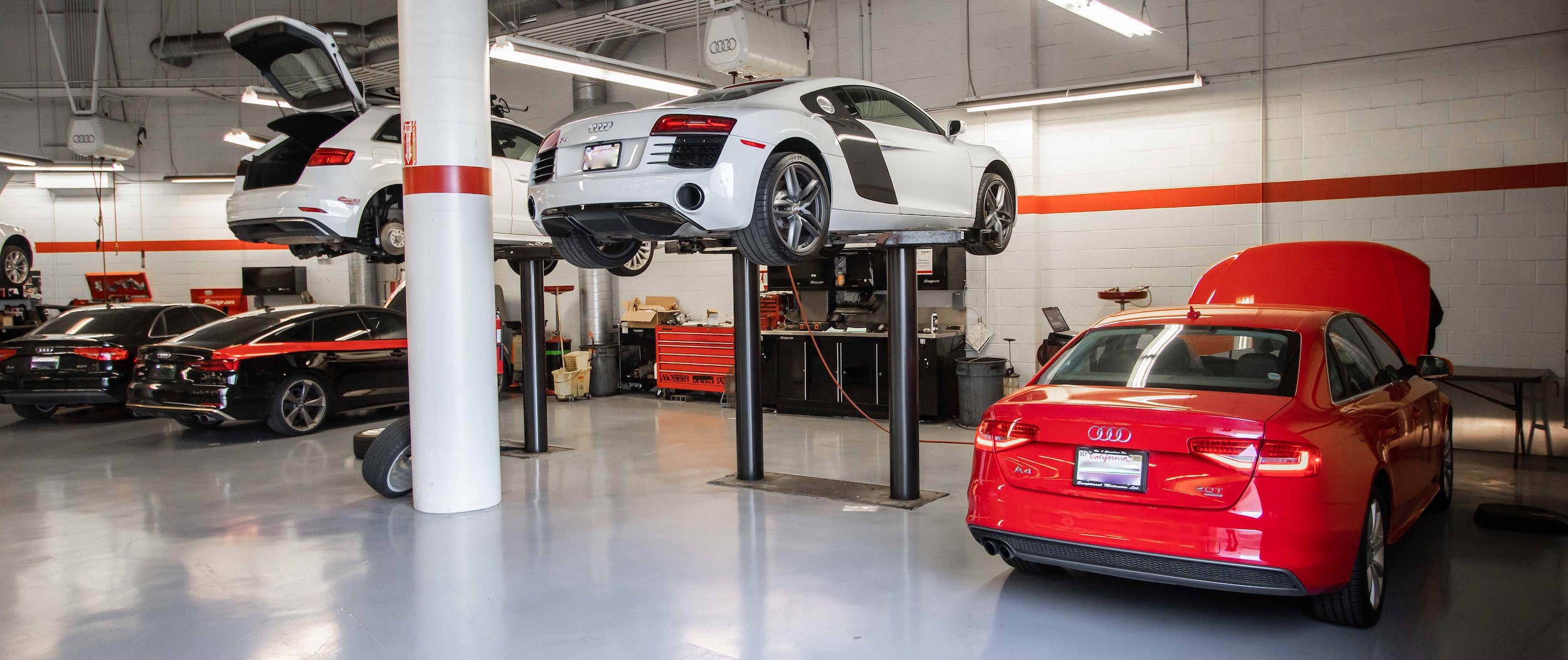 Schedule Audi Service
Our Audi Service Center is open. We are taking every precaution to provide a clean & safe environment for our guests. Click to learn more about our Corona Virus Response.

If you want your luxury car to run with precision for a long time, then you need to take good care of it. The best way to do that is to schedule an appointment at our Riverside Audi service center. We keep convenient hours to ensure there's a time that works with your schedule, and we offer loaner cars* for the times you can't wait. Plus, we make it simple to schedule Audi service, just give us a call or complete the form below.
Services We Provide
You can count on Walter's Audi for the following services and repairs:

Audi Care
For even more peace of mind and convenience when it comes to routine maintenance, we recommend Audi Care, which is a prepaid maintenance plan with great service benefits. Benefits include free scheduled maintenance at 15,000, 25,000, 35,000, and 45,000 miles. If you opt for Audi Care Plus, that extends to 55,000, 65,000, and 75,000 mile appointments as well. These scheduled services include important system inspections, oil and oil filter replacements, tire inspections, air filter replacements, and more.
Audi Maintenance Schedules
Not sure when your specific Audi model is due for routine maintenance like a tire rotation or new brakes? Check out the OEM recommended Audi service intervals to see when you should bring your Audi back to our service center for refills, replacements, inspections, and more.

Audi Service Coupons
At Walter's Audi we want to make service as convenient and cost effective as possible, which is why we offer monthly Audi service coupons and specials. Simply present the applicable offer at the time of service to save.
Audi Recalls
Audi is always on the cutting edge of technology but every now and then an issue is brought to our attention that needs to be addressed. When that is the case, a recall notice will go out. Although it doesn't happen often, it does occasionally, so it's good to check our Audi recalls tool to see if there's any relevant recalls out for your Audi vehicle. If there is, please bring your Audi to our service center so we can resolve the recall issue at no cost to you.

Audi Repair Services
As an authorized Audi service center staffed with trained certified Audi technicians, Walter's Audi in Riverside should be your first stop for any repairs your vehicle may need. Visit us today for any and all Audi repair needs.

Audi Service Near Me
If you're in Riverside, Corona, Los Angeles, or Orange County and you need a trusted Audi service center, look no further than Walter's Audi. With a convenient location and service hours that allow you to drop your vehicle off before work (plus we're open on Saturdays), we cater to you and your busy schedule. Contact us if you have any questions for our Audi service center in Riverside.

*See service advisor for loaner car availability.
Your privacy is important to us.
Walter's Audi takes your privacy seriously and does not rent or sell your personal information to third parties without your consent.  Read our privacy policy.
Service Hours
Monday - Friday

7:00 AM - 6:00 PM

Saturday

7:00 AM - 4:00 PM

Sunday

Closed