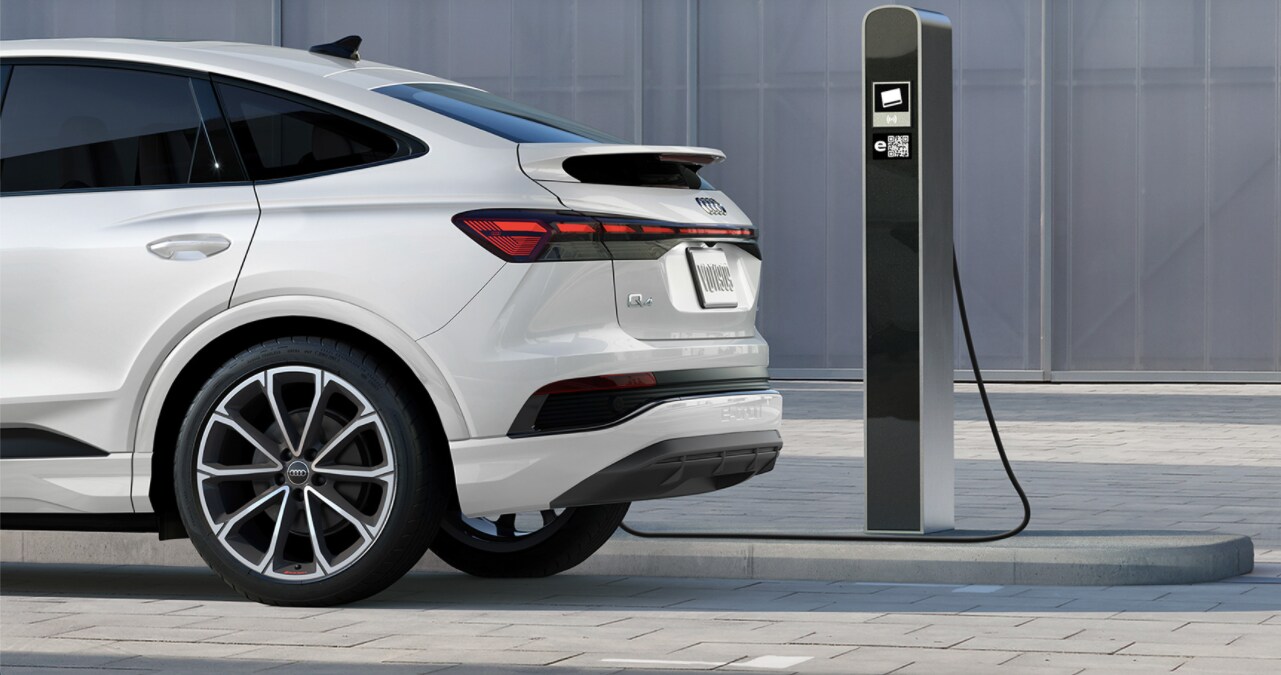 Los Angeles and Orange County area residents driving a hybrid or electric Audi model may be eligible for a federal income tax credit of up to $7,500. Learn all about the requirements, the credit amounts, how to collect your credit, which Audi models are eligible, and what separates an all-electric vehicle (EV) and a plug-in hybrid (PHEV) from our Audi dealer near Los Angeles today!
View Audi Hybrid & Electric Inventory
What is an Electric Vehicle?
All-electric vehicles (EVs), also referred to as battery electric vehicles, have an electric motor instead of an internal combustion engine. EV vehicles use a large traction battery pack to power the electric motor and must be plugged into a wall outlet or charging equipment, also called electric vehicle supply equipment (EVSE). Because it runs on electricity, the vehicle emits no exhaust from a tailpipe and does not contain the typical liquid fuel components, such as a fuel pump, fuel line, or fuel tank.
Both heavy-duty and light-duty EVs are commercially available. EVs are typically more expensive than similar conventional and hybrid vehicles, although some of that cost can be recovered through fuel savings, a federal tax credit, or state incentives. (US Department of Energy) 
What is a Plug-In Hybrid Vehicle?
Plug-in hybrid electric vehicles-known as PHEVs-combine a gasoline or diesel engine with an electric motor and a large rechargeable battery. Unlike conventional hybrids, PHEVS can be plugged-in and recharged from an outlet, allowing them to drive extended distances using just electricity. When the battery is emptied, the conventional engine turns on and the vehicle operates as a conventional, non-plug-in hybrid.
Federal Tax Credit Requirements 
To be certified for the credit by the manufacturer, the vehicle must meet the following requirements:
The vehicle must be made by a manufacturer (i.e., it doesn't include conventional vehicles converted to electric drive).
It must be treated as a motor vehicle for purposes of title II of the Clean Air Act.
It must have a gross vehicle weight rating (GVWR) of not more than 14,000 lbs.
It must be propelled to a significant extent by an electric motor that draws electricity from a battery that 

has a capacity of not less than 4-kilowatt hours and 
is capable of being recharged from an external source of electricity.
Claiming Your Federal Tax Credit
Claiming your federal tax credit is a lot easier than you are thinking! All you have to do is fill out Qualified Plug-in Electric Drive Motor Vehicle Credit, Form 8936. 
For vehicles acquired for personal use, report the credit from Form 8936 on the appropriate line of your Form 1040, U.S. Individual Income Tax Return.
For vehicles purchased in 2010 or later, this credit can be used toward the alternative minimum tax (AMT).
If the qualifying vehicle is purchased for business use, the credit for the business use of an electric vehicle is reported on Form 3800, General Business Credit.
Eligible Electric and Plug-In Hybrid Audi Models
| | | |
| --- | --- | --- |
| Audi Model | Vehicle Type | Maximum Credit |
| 2020-2022 e-tron Sportback | EV | $7,500 |
| 2019, 2021-22 e-tron SUV | EV | $7.500 |
| 2016-18 A3 e-tron | PHEV | $4,502 |
| 2016 A3 e-tron ultra | PHEV | $4,502 |
| 2021 A7 55 TFSI e Quattro | PHEV | $6,712 |
| 2022 A6 TFSI e Quattro | PHEV | $7.500 |
| 2020 A8L PHEV | PHEV | $6,712 |
| 2021 A8 L 60 TFSI e Quattro | PHEV | $6,712 |
| 2020 Q5 PHEV | PHEV | $6,712 |
| 2021 Q5 55 TFSI e Quattro | PHEV | $6,712 |
| 2022 Q5 TFSI e Quattro | PHEV | $7.500 |
Visit Walter's Audi Serving Los Angeles and Orange County
Check out our inventory of environmentally friendly Audi models from our Los Angeles and Orange County Audi dealership. Contact us with any questions you may have. We are eager to help you find the new luxury car of your dreams, and help you claim your credit!