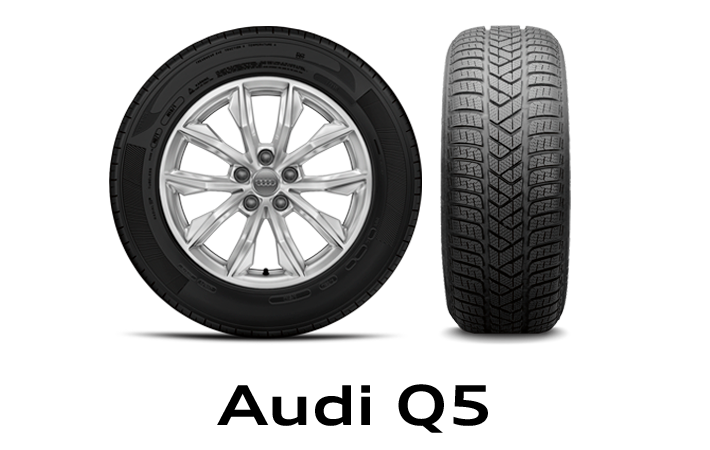 The Audi Q5 requires the best tires to operate at its expected performance – and that's where Audi Original Tires come in. Audi Original Tires are engineered in collaboration with leading tire manufacturers strictly for Audi vehicles. When you see the distinctive "AO" or "RO1®" sidewall marking, you'll know it's original. Continental, Michelin, Goodyear, Yokohama, and Pirelli are just some of the brands that produce Audi Original Tires. Providing your Audi Q5 with the tires it deserves is easy with our Audi tire center in Riverside.
When the temperature rises in Southern California, you'll want to be equipped with the best tires for the warm weather conditions including our hot sunny weather. We recommend outfitting your Audi Q5 with tires like these:
Pirelli Scorpion Verde A/S Plus
Yokohama Geolander G055
Dunlop Grandtrek Touring A/S
Find the perfect tires for your Audi Q5 by visiting our online Audi tire store. Select the year, make, model, and trim of your vehicle and then customize the results based on driving habits. This will provide you with the perfect tire recommendations for your vehicle that include all the recommended Audi Original Tires.
The Best Tires For Your Audi Q5 Are At Walter's Audi In Riverside
At our Riverside Audi dealership, we pride ourselves on providing Audi owners with the quality Audi tire service and selection of new tires that they both require and deserve. Each part of your vehicle runs smoothly and at peak performance due to its exceptional original Audi parts, and Original Audi Tires are no exception.
Your tires are the main point of contact with the road, and you wouldn't get anywhere without them. If you'd like to keep your Audi Q5 performing well throughout every drive, the first stop on your service journey is its tires. You can count on Walter's Audi for more than just replacement tires, our service center is ready to perform an array of tire maintenance services including tire repairs, tire rotations, alignments, and more.
If you have any questions about your Audi Q5's tires or would like to schedule a service appointment, don't hesitate to contact us at our Riverside Audi dealership today.