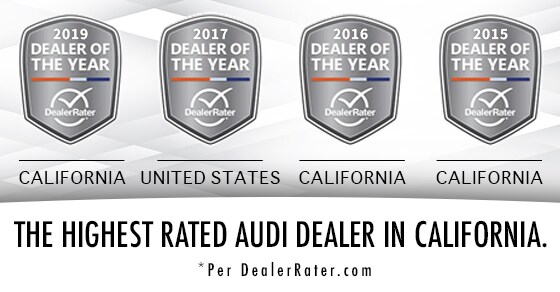 Here at Walter's Audi, we're always eager to provide our visitors with a truly exceptional dealership experience! Of course, this also means that we're thrilled when our efforts are recognized and we add to the list of awards our California Audi dealer has received.
Most recently, we're proud to announce that we've been named the Top Rated Audi Dealer in California by DealerRater.com for a fourth time!
An Unrivaled Experience for California Audi Shoppers
Receiving this accolade is particularly meaningful to the team here at Walter's Audi, namely because it hinges so heavily on what our customers think of us. DealerRater is a premier destination for shoppers who want to read or write customer reviews of our California Audi dealership, and we always aim to please.
Our customers are at the core of everything we do, as our primary objective in every action is to provide the best possible experience to our shoppers and service center visitors. We're fixated on delivering outstanding customer service, so we're always ecstatic to receive reviews from our customers. To have that feedback manifested in the form of ratings high enough to earn us this coveted award tells us that our efforts are making a difference in the lives of our customers, and thus brings us an extraordinary sense of pride.
If you're looking for a dealership where your needs come first, we urge you to come and see us at Walter's Audi. Our reviews and accolades speak for themselves, and we're always thrilled to add another happy driver to our extended family.
To learn more about our latest customer reviews, or to schedule a test drive and experience the difference for yourself, be sure to contact Walter's Audi online or by giving us a call today.