Each sedan in the Audi lineup is known for sharing sleek lines, athletic handling, and impressive performance. If that's the sort of thing that revs your engine, then the locking rings of the Audi badge are a sign that you're on the right track. But which sedan at our Orange County area Audi dealership is right for you? Our expert team is here to help you decide.
The 2019 Audi A3 and 2019 Audi A4 share in a similar sense of style, both drawing inspiration from the same sense of fluid motion and and sharing in the same feeling of luxury. Which one suits your needs best is largely a matter of size and taste, with the 2019 A4 adding a bit more to the 2019 A3's compact design.
A Size to Suit Every Orange County Area Audi Shopper
While the 2019 Audi A3 is built around a 103.8-inch wheelbase, the 2019 Audi A4 features a wheelbase of 111 inches. That seven-inch increase translates to an addition of over 11 inches in overall length, as well as a couple inches of width in the 2019 A4. This is a matter of preference, of course, as choosing a vehicle that's slightly smaller or larger might be just the ticket in fitting luxury smoothly into your driving habits.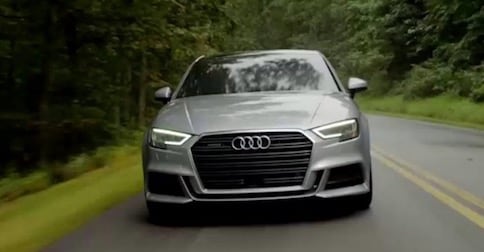 Of course, if you often travel with several passengers–as the primary driver for a growing family, perhaps–then the resulting interior space might be of paramount importance for you. The 2019 A4 is the larger of these two Audi sedans at our Orange County area showroom, sporting a few additional inches of head and shoulder room that you passengers are sure to appreciate.
As for handling, both vehicles share a multi-link rear suspension. While the 2019 A4 also has a multi-link front suspension, the 2019 A3's front suspension is built on struts. In terms of power, both sedans are built with 2.0L TFSI® engines and offer quattro® all-wheel drive, but the 2019 A4 does deliver on a bit more horsepower and torque.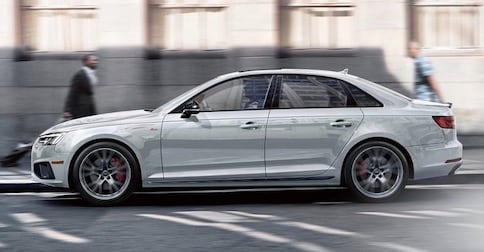 Considering its smaller size, the 2019 A3 also offers a lower starting MSRP than its larger sibling. This varies depending on the features of the vehicle you choose, though; our experts are happy to walk you through available packages and our latest lease and financing offers.
Overall, both the 2019 Audi A3 and 2019 Audi A4 are built with your comfort and enjoyment in mind and offer a wide range of fine interior materials and amenities. The main difference comes in the forms of size and handling, which are best explored by test driving each of these models. For more information, or to schedule a test drive at Walter's Audi, be sure to contact us today.