As we roll into a brighter, greener tomorrow, many shoppers visiting our Orange County area Audi dealership are increasingly interested in electric vehicles. Needless to say, the introduction of the 2019 Audi e-tron®--Audi's first all-electric SUV--has made plenty of waves here.
A concern for many drivers, though, is whether or not electric performance is a practical change for their lifestyle. Once you see just how far the 2019 e-tron® can go on a single charge, you'll realize just how seamless this transition can be.
With its advanced 95 kWh battery, which is specifically designed for long-range capability, the 2019 e-tron® is ready to help you enjoy all-electric performance without missing a beat. With a charge range of roughly 160 miles, the 2019 Audi e-tron® gives you the juice you need for your daily drive around Orange County, unexpected errands, or even a road trip!
Charging Made Easy for the Road Ahead
Audi estimates that 80% of your charging needs will be met at home, where the 2019 e-tron® can be fully charged in about nine hours using a 240 volt/50 amp outlet with a NEMA 14-50 plug. You don't need to be an electrician to make sure your charging setup is optimized, either; Audi is working with Amazon Home Services to provide owners with quick, professional outlet installation for a smooth setup.
When you need more juice on the go, a constantly growing network of charging stations with speeds up to 350 kW makes it easy to get a charge. With over 4,000 charging stations in Southern California, it's a breeze to switch to Audi's all-electric SUV.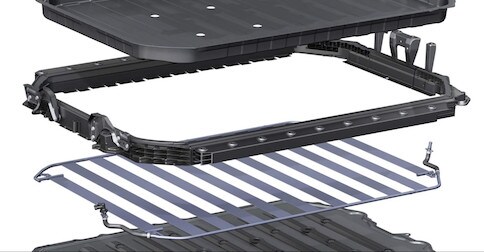 The advanced e-tron® battery charges quickly, getting up to an 80% charge in just 30 minutes at a 150 kW high-speed public charging station. This is thanks to Audi's advanced battery design, which features active liquid-cooling to provide optimal thermal management for quicker charging. Additionally, an eight-year/100,000-mile limited battery warranty helps you to rest easy behind the wheel.
To learn more about the advanced technology that makes the 2019 Audi e-tron® a perfect fit for modern motorists, don't hesitate to contact Walter's Audi. Just give us a call for any and all of your automotive needs.