Luxury is sleek and smooth by its very nature. It doesn't loudly demand attention, but rather steals your breath away. This is captured perfectly not only in the exterior of Audi's designs, but also in the cabins of its vehicles.
Here at our Orange County area Audi dealership, our visitors can't help but love the approach Audi has taken to embody this philosophy in its infotainment. The Audi MMI® interface is at the core of this approach, providing a sprawling range of features while completely avoiding gaudy bells and whistles that distract from a vehicle's sense of refinement.
Putting Drivers in Control
When you think of taking control behind the wheel, you likely think of the steering wheel itself. Audi wants your sense of intuition to guide you in the cockpit when it comes to more than just driving, though. That's why the MMI® interface in the latest models at our Audi showroom serving Orange County have been 100% touch-optimized.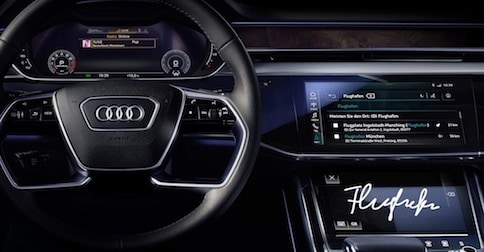 Clunky knobs and unsightly buttons have been swept away, replaced instead with a pair of touchscreens. Haptic feedback from the touchscreen provides a satisfying response, allowing you to naturally know that your input has been received. Whether you're controlling navigation, entertainment, communication, or the climate, you'll always feel a connection with the vehicle.
Because the input is given via touchscreen, though, it's easy to completely overhaul the screen with customizable settings that suit your preferences. Use individualization allows you to set your favorite functions and save your settings so that you're right at home every time you slide into the driver's seat.
In addition to touch-based interaction, you can also take control of your favorite features via intuitive, natural voice commands or even through your own handwriting. Simply speak directly to the interface or jot things down with your fingertip, and the system will respond appropriately.
When it comes to taking control and making the most of your ride, Audi makes it as natural as can be. To learn more about the Audi MMI® system, or to come by for a demonstration, be sure to contact Walter's Audi online or give us a call.