Comfort, confidence, and control are exactly what you can count on finding behind the wheel of each and every vehicle at our Audi dealership serving Orange County. For an even more comprehensive driving experience, though, you can't beat the available Audi virtual cockpit. So, which 2018 Audi A4 vehicles offer this advanced display?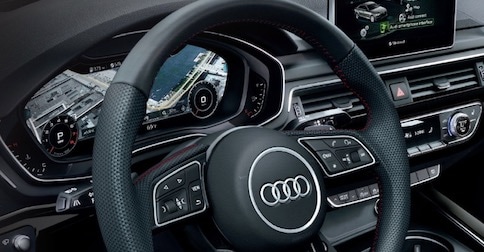 Audi virtual cockpit is included as a standard feature in the 2018 Audi A4 Prestige. It's also available in the 2018 Audi A4 Premium Plus when you opt for the available Navigation and Telematics Package.
Audi Virtual Cockpit Keeps Orange County Area Drivers Informed No Matter Where They Go
Your needs behind the wheel can vary greatly depending on where you're going, what your goals are, and the sort of driving you're doing. That's why the 2018 Audi A4 is designed to keep Orange County area drivers in the loop with the highly customizable virtual cockpit system.
Taking the place of a traditional gauge cluster, Audi virtual cockpit puts a customizable screen front and center for drivers. This not only makes information easy to access, but also serves to minimize distractions on the road.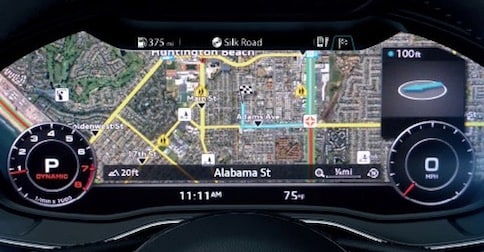 Up to three display modes allow Audi virtual cockpit to seamlessly shift to meet your needs, too. Classic mode presents the features you may already be accustomed to: speedometer, tachometer, clock, compass, temperature gauge, map, and so on. Switch to Infotainment mode, and traditional gauges are scaled down to create more space for your navigational map so that it's easy to follow turn-by-turn navigation without getting distracted. Lastly, Sport mode--exclusive to the sportier 2018 Audi S4--displays the tachometer more predominantly, along with the speedometer, boost gauge, and lap timer.
Whatever way you like to drive, Audi is thrilled to provide an intuitive system that can provide exactly the information you need, right where you need it. To learn more, or to see the Audi virtual cockpit in action, be sure to contact Walter's Audi.