When you took your driver's test, what were you driving? If it was anything other than the silky and powerful new Audi A8, you're missing out. Don't just take our word for it: let your friendly neighborhood Spider-Man show you how it's done!
Though you can get a glimpse of this flawless and sleek sedan on July 7th in Spider-Man: Homecoming, we're confident you'll want to give it a whirl before then. At Walter's Audi we can get you behind the wheel of a new 2017 Audi A8.
Become the Best Version of You
The 2017 A8 may not be up for web-slinging, but that doesn't mean it won't make you feel like a superhero. After all, it's hard to believe you're not flying when you're at the helm of a 333-hp V6 engine, coupled with a lighter body construction for optimal performance. For added grip when you're taking those tough turns, the infamous Audi quattro drive line kicks in to keep all four wheels planted firmly where they belong. Meanwhile, the standard head-up display with all the necessary navigation and available assistance tech you need is projected directly onto the windshield, so you can go in relentless pursuit of your next destination without taking your eyes off the road.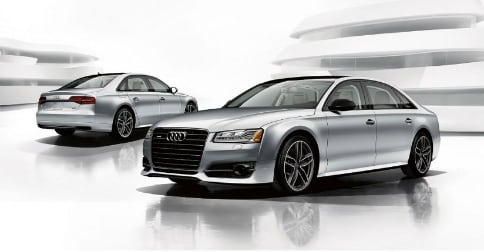 With its host of driver-centric tech features, you'll wonder if the 2017 A8 really is a product of Tony Stark's innovation. That's not quite true, so we settled for a close second… our German engineers who strive for perfection inside and out. For example, a standard parking system with top and corner view cameras will give you a fresh perspective on how your parallel parking game is, and a number of radar-based features, such as adaptive cruise control, will put your Audi's Spidey Sense to work, ensuring that everyone in the car stays safe.
Visit us today to take a test drive of the sedan that's destined to become a formidable force for good.