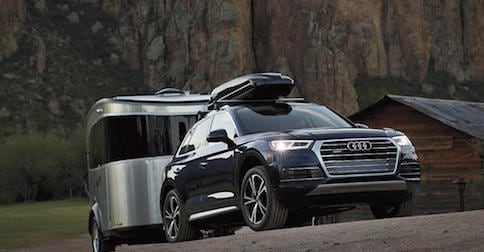 Not every luxury SUV on the market is cut out to handle the work traditionally associated with sports utility vehicles. If you own bigger items like an ATV, a boat, or just a trailer used for hauling things, a vehicle's ability to tow things is certainly an important consideration when shopping for a new vehicle. If you're wondering whether or not the 2018 Audi Q5 can tow, then our Orange County area dealership is happy to tell you that it can.
View Audi Q5 Inventory
Hook It Up & Tow
To be clear, the Premium Plus and Prestige trim lines are the only ones that offer a trailer hitch provision. The Q5 Premium does not offer a trailer hitch, which means you won't be able to tow with that model. But the Premium Plus and Prestige have a 4,400-lb maximum towing capacity and 440-lb tongue weight. So if you're looking for a vehicle that you can hook up a trailer to and bring your favorite toy along with you, then the 2018 Audi Q5 may just be it.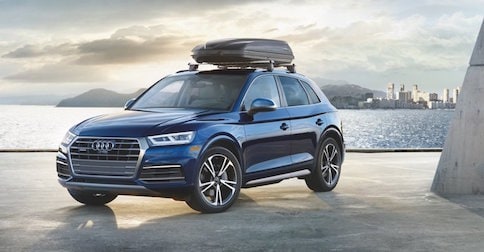 What makes the new Q5 such a special vehicle to buy at our Audi dealer serving the Orange County area is the way it balances capability with efficiency. It has a turbocharged four-cylinder engine under the hood that pumps out 252 horsepower and 273 lb-ft of torque. That's a powerful and efficient engine with a small displacement, but 4,400-lb towing capacity is quite sizeable.
That's a towing capacity that would allow you to hitch up a modest sized boat or multiple dirt bikes with ease. The 2018 Audi Q5 may look like a luxurious SUV built to cruise the highway—and that's because it is! But that doesn't mean it isn't capable of doing some work as well. So if you need an SUV that can tow a trailer while turning heads with its eye-catching style, then the 2018 Q5 is a good option. Contact Walter's Audi today to learn more about this impressive SUV or just give us a call at (888) 567-6428.
View Audi Q5 Inventory