In the graphic below you will find an example of many of the most common Audi dashboard indicator lights*.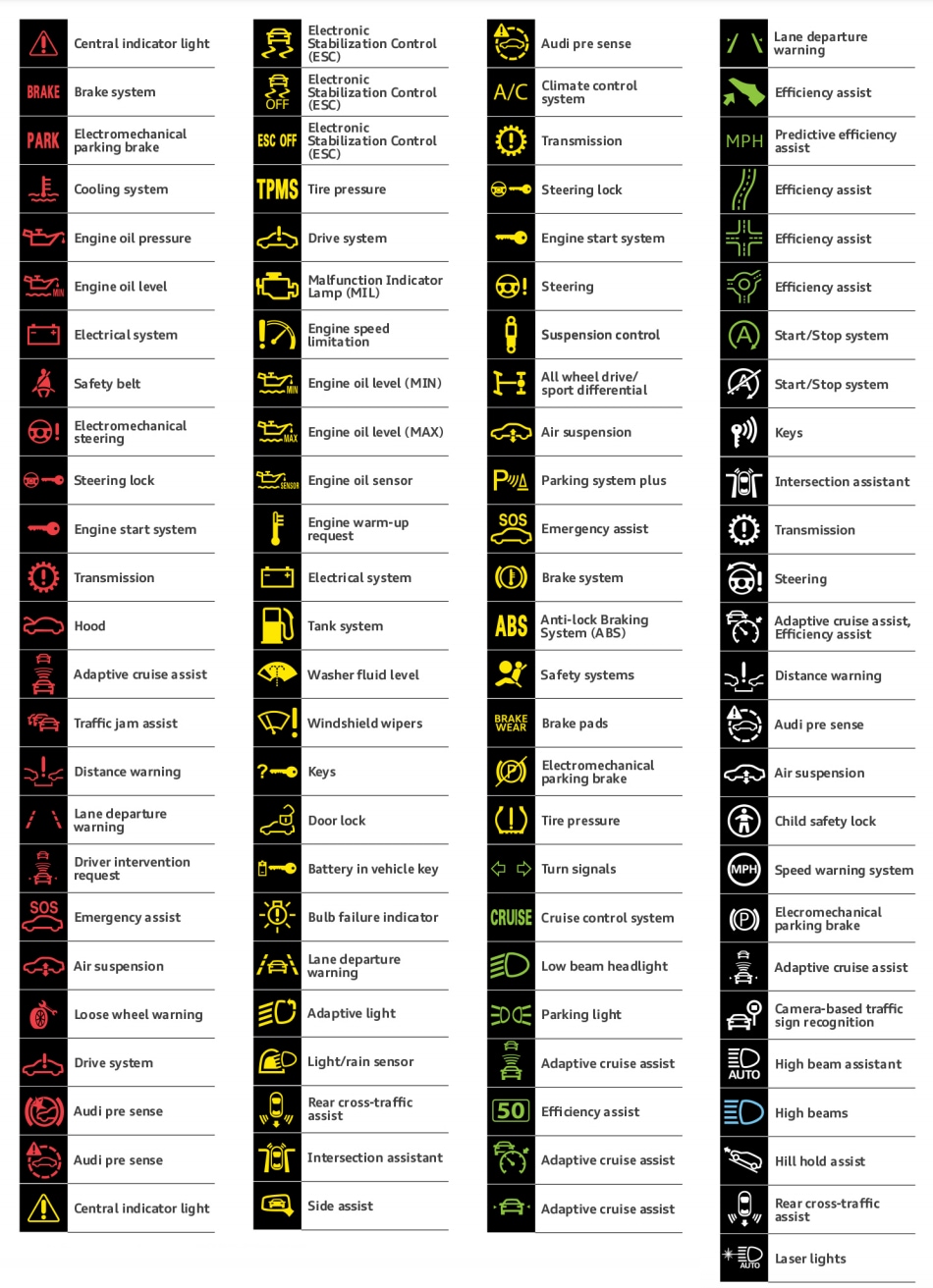 Not all of the lights above are warning lights, some just indicate that a system or feature is engaged. However, it's also important to note that with some indicator lights, messages may appear and warning signals may sound. As with all car care recommendations, do not ignore warning signs like illuminated lights as they may require action.

If you find yourself looking at a warning light, contact the Walter's Audi service center in Riverside for assistance. We serve Audi owners from in and around Los Angeles, Orange County, and Corona.
- Our Audi Service Center in Riverside is Open -

We are taking every precaution to provide a CLEAN & SAFE environment for our guests. Click to learn more about our Corona Virus Response.

Common Audi Warning Lights Explained
Brake System: If the BRAKE light is illuminated and accompanied by a circular icon with an exclamation point in the middle, there is a malfunction in the brake system. A message may also appear with further information, but if any of these lights are on it's important to bring your vehicle to an Authorized Audi dealer or Service Facility like Walter's Audi for brake service and repair.
Brake Pads: This light is either a circle with lines on the sides or actual text that says BRAKE WEAR, both of which indicate that the brake pads wear limit has been reached. Bring your vehicle to an Audi service center as soon as possible for new brake pads.
Central Indicator Light: A triangle with an exclamation mark in the middle is the central indicator light. When this light turns on, check the instrument cluster display for more information.
Cooling System: If you see an icon that resembles a thermometer above wavy lines, this means that your coolant level may be too low or the coolant temperature may be too high. Consult the owner's manual for next steps. Do not continue driving if this indicator light appears as either scenario increases the risk of engine damage.
Tire Pressure Monitoring System (TPMS): This light looks like a flat tire with an exclamation point in the middle. Every Audi is equipped with a TMPS that illuminates when one of more of your tires is significantly under-inflated. If you see this light, check your tires as soon as possible and inflate them to proper pressure. Driving on underinflated tires reduces the vehicle's efficiency and tread life, may affect the vehicle's handing and stopping ability, and can even lead to tire failure. Tires may lose pressure when there's a big swing in the outside temperature, but it could also be the first sign of a leak. If you need your tire patched, or find yourself needing new tires, visit our Audi tire center.
For additional information on indicator lights, refer to your vehicle's Owner's Manual.
*The above set of Audi Indicator Lights are from a 2019 Audi Q5, lights, symbols, icons, and colors may vary based on your particular model and year.
Hours
Monday

9 AM- 9 PM

Tuesday

9 AM- 9 PM

Wednesday

9 AM- 9 PM

Thursday

9 AM- 9 PM

Friday

9 AM- 9 PM

Saturday

9 AM- 8 PM

Sunday

10 AM - 7 PM