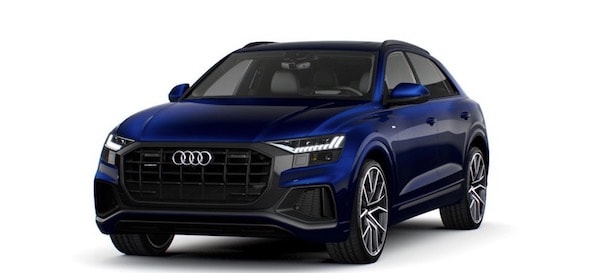 | | |
| --- | --- |
| Engine Oil & Oil Filter | Every 10,000 miles or every year. |
| Brake Fluid | Replace every 2 years regardless of mileage. |
| Brake System | Checked with annual service. |
| Battery | Check every 20,000 miles or 2 years, whichever occurs first; replace if necessary |
| Tires | Checked with annual service. |
Bold, spacious, and uncompromising, the Audi Q8 is an SUV that is always ready to bring you and your family exactly where you need to go. When you stay on top of routine maintenance procedures at our Riverside Audi service center near Orange County and Los Angeles, our expert team can help ensure that your Audi Q8 continues to deliver on the performance that you love.
Follow The Recommended Audi Q8 Maintenance Schedule
Routine maintenance is the key to protecting your vehicle and, just like the term suggests, it should be a routine occurrence. By regularly checking, replacing, and servicing various components and consumables, you can help to protect your vehicle against premature wear and tear or other damage.
Routine procedures like oil changes and brake maintenance are intended to help keep your vehicle's myriad moving parts in good working order so that they deliver when you need them most. Many components, like your brakes and tires, are also critical for your safety. By having an expert check these components regularly, you can be sure to have them repaired or replaced before small issues grow into large problems.
When you adhere to your Audi Q8's recommended maintenance plan, you can protect your investment and help ensure that it stays in better shape longer. This can also help to protect you against more serious issues later on, as well as protecting your vehicles resale value for the future.
For more information on properly maintaining your Audi Q8 with our Orange County and Los Angeles area service center in Riverside, or if you're ready to schedule an appointment, be sure to call us today.