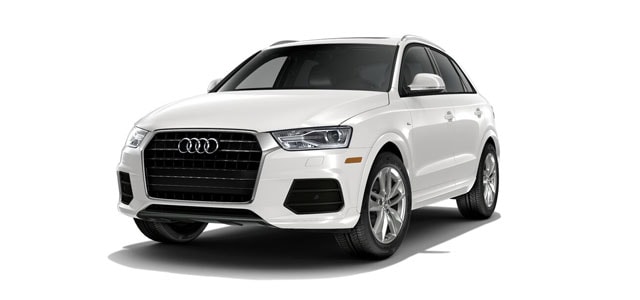 | | |
| --- | --- |
| Engine Oil & Oil Filter | Every 10,000 miles or every year. |
| Brake Fluid | Replace every 2 years regardless of mileage. |
| Brake System | Checked with annual service. |
| Battery | Check every 20,000 miles or 2 years, whichever occurs first; replace if necessary. |
| Tires | Checked with annual service. |
You can count on reliable Audi Q3 service at Walter's Audi. The skilled technicians on staff will provide dependable auto repair and routine maintenance on your vehicle at our Riverside Audi service center and get you back on the road in no time. Our facility has the most advanced tools and technology, which make providing the necessary service on your Audi Q3 efficient and hassle-free. The staff at Walter's Audi will help you get the most out of your luxury SUV. 
Follow The Recommended Audi Q3 Maintenance Schedule
Routine maintenance is not something you want to put off for too long, unless you want to do serious damage to your vehicle. We know how busy life can be from day to day, which is why our service experts put together a service interval sheet for Audi Q3 drivers to reference so they know all the maintenance that needs to be performed, and how often it needs to be done. This way you will always know when something needs to be changed.
The brake system is constantly in use when your car is in motion, and since it's an integral piece of equipment for operating your Audi Q3, it needs regular attention. Regular tire rotation and replacement are often overlooked, but it's a great way to improve performance, handling, and fuel economy. That doesn't mean the actual tires need to be inspected or replaced as often, it just means they should be checked periodically. You should monitor the tread thickness regularly to make sure you won't be sliding out while going around turns on unsafe tires.
All the different components in your vehicle that require attention and service are covered in the service intervals for the Q3. Our Orange County and Los Angeles area Audi service experts have a solid understanding of what it takes to keep you on the road in your new Audi Q3 for years to come. They are ready to handle all the necessary maintenance to keep you going and out of the shop with more serious issues. Getting an oil change and having your battery inspected regularly is important, but there's more to your luxury SUV than that. Schedule an appointment today at Walter's Audi and let our skilled service technicians look over your Audi Q3.
If you have any questions about service for your Audi Q3 or any other vehicle, give us a call today. We are conveniently located in Riverside, near Los Angeles and Orange County.