If you desire an exhaust system check, please feel free to reach out to the friendly and knowledgeable staff at our Audi service center in Riverside can help! Call us to schedule a service appointment with us today!
Walter's Audi is committed to providing their Riverside Audi customers with the most up to date information regarding their vehicles routine car maintenance. One aspect of the vehicle that Walter's Audi believes is extremely important to pay close attention to would be the vehicle's exhaust system.  The muffler is apart of your exhaust system while keeping your vehicle quiet.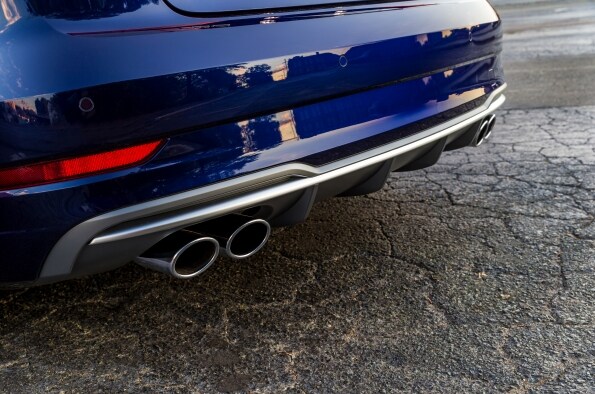 Signs It's Time for a New Muffler
Loud Noises
One of the more telling signs that you might be in need of a new muffler or to get the system checked would be the volume of your muffler.  Normally, the muffler is very quiet, not making too much noise while driving.  If there is something wrong you will first here it in the raised level of noise coming from that area.  The additional loudness coming from the muffler is a telltale sign that its time to get your exhaust system looked at by a highly trained technicians.   
Lower MPG
When you have a solid functioning system your vehicle will produce a better fuel economy, so if you notice that your stopping to make more trips to the gas station, then you might be having some internal problems.  You are able to monitor month-to-month performance to catch a problem before it becomes too serious with the in dash-mounted screen and systems within the vehicles. 
Bad Smells
Finally, if you have a bad smell coming from your exhausted, it could be a sign that your system isn't working properly.  This is a bit more on the dangerous side as there could be a leak and the fumes could be stuck within the car and exhaust fumes over time could be fatal.  
For more information about your vehicle's muffler and exhaust system or to schedule a service appointment with us, contact our Audi dealership in Riverside today!
Happy Customers:
"My service advisor is very friendly, kind ,courteous and knowledgeable. She is also completely honest and direct about your service. I admire her professionalism and would recommend her to everyone. Thank You!" - Boogie21




"My whole team were absolutely fantastic. Service was explained, any updates were texted promptly and the entire experience was great! Super happy!!'" - Rock18
Directions: