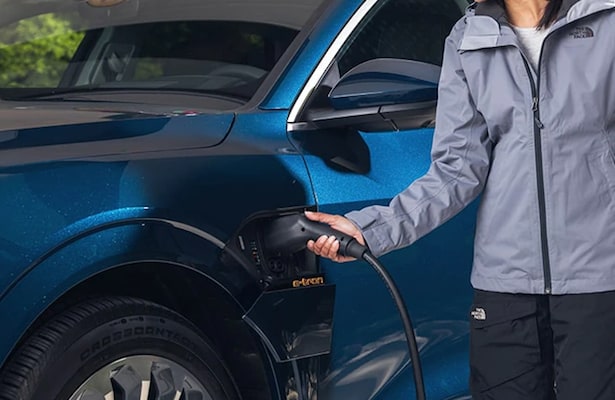 New Audi Inventory
Allow us, Walter's Audi serving Los Angeles and Orange County, to explain the cost benefits of being the owner of an Audi hybrid or electric vehicle. And as an added bonus, how owning a hybrid Audi or Audi e-tron®model can also help reduce the size of your carbon footprint. 
Benefits of Owning a Hybrid or Electric Audi
Reward Programs & Tax Credits
Los Angeles and Orange County area Audi shoppers can take advantage of the California Clean Fuel Reward (CCFR) program when they select an eligible new Battery Electric (BEV) or Plug-in Hybrid (PHEV) model from our new inventory of Audi Hybrid and Electric vehicles. The CCFR is available to anyone who buys or leases a new electric vehicle with a battery capacity greater than 5 kWh. This instant electric vehicle reward is offered on a sliding scale, depending on battery size, up to $750. You then must register the vehicle in California and reside in the state too. So if you were worried about the sticker cost of a hybrid or electric vehicle, don't be.

A $7,500 Federal BEV + PHEV Tax Credit* is also available on select new electric and hybrid Audi models, contact us for complete details.

Special incentives and new Audi specials can help you get behind the wheel of a new green machine. 
Cost of Service
Choosing to go electric means no more oil changes! Not only that, but wear and tear on your Audi's brakes will also be minimal on a hybrid model due to regenerative braking systems and advanced technology, which means far less service appointments too. 
See recommended Audi service intervals.
Fuel Usage
Hybrid and electric cars significantly reduce the cost and usage of fuel due to their high-efficiency electric-drive components, or batteries in the case of our all-electric vehicles. In fact, skip the gas pump altogether in an all-electric Audi. 
Carbon Footprint
Less fuel being burned means an overall smaller carbon footprint by drivers that choose to own hybrid or electric. The state of our environment doesn't seem to be improving, so taking any steps we can toward a cleaner world will prove to be hugely beneficial in the long run. 
Shop Hybrid & Electric Vehicles at Walter's Audi in Riverside
Check out our inventory of environmentally friendly Audi models from our Los Angeles and Orange County Audi dealership. Contact us with any questions you may have. We are eager to help you find the new luxury car of your dreams. 
New Audi Inventory
*For BEV vehicle lease deals, this is a pass through of the Federal BEV tax credit available to Audi Financial services by law. For retail and premier purchase deals, tax credits should be requested directly with the states Federal government by the customer and will not be administered by AFS. For PHEV vehicles, offer is exclusive to lease deals only. This is a pass through of the Federal PHEV Tax Credit available by Audi Financial Services by law.