Having engine trouble? Visit our authorized Audi service center in Riverside today. Our team of certified technicians can help with all of your Audi engine replacement, repair, and rebuild needs.
You may have heard of an engine rebuild, but do you know exactly what it entails? Engines are rebuilt for a myriad of reasons, but our Riverside Audi service center is here to help you identify some signs of why you may need to receive an Audi engine replacement.
Your Audi engine may need to be rebuilt due to worn-out engine bearings or poorly-seated piston rings. Your engine's crankshaft, rods, and pistons are mounted on bearings that allow them to move freely. These bearings are lubricated by engine oil, and are built to last thousands and thousands of miles. Although they are built to live a long life, bearings do experience some wear after some time.
With the help of our Audi service center's certified technicians, you can receive an Audi engine replacement in a timely manner.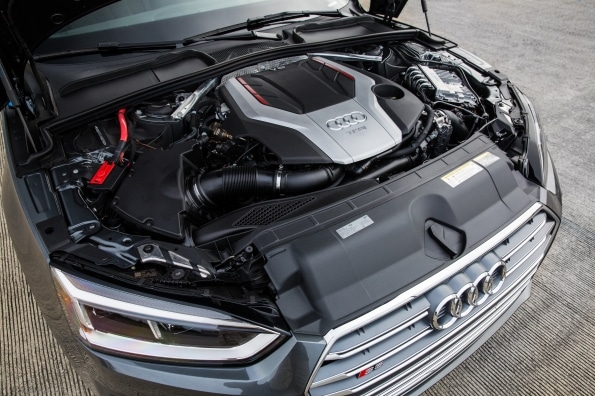 Signs it's Time for an Engine Repair or Rebuild
You know that replacing or repairing your Audi's engine will protect yourself, your vehicle, and your passengers. Here's why:
Oil consumption and excessive white smoke in the exhaust: This is normally a sign of worn piston rings.
Metal shavings in the engine oil: This is a common sign of extremely worn bearings.
A knocking or chattering: When your engine bearings are worn, you may begin to hear this noise coming from your engine.
How Much Does it Cost to Repair an Audi Engine?
How much it costs to repair your Audi's engine depends on how much work is required. When you bring your Audi to our service department, we'll give you a comprehensive quote. No work will be completed without your authorization. 
Audi Engine Maintenance Tips
To keep your engine running as it should, it's extremely important to keep up with your routine maintenance. The best way to ensure your engine runs smoothly for years to come is to bring it to our Audi service department for regular oil changes. If your Audi is due for an oil change, our service technicians are happy to perform it for you.
Audi Engine Rebuild Specialists in Riverside
When your Audi's engine is in need of a complete rebuild, you can trust Walter's Audi to complete your service quickly and correctly. Our Audi service department only employs certified Audi technicians who strictly use genuine OEM replacement parts. Our certified Audi technicians can be completely trusted with your Audi engine rebuild. 
Why Visit Our Audi Service Center in Riverside
Customers have been bringing their Audi sedans, coupes, and SUVs in for service at our dealerships, which are located in the heart of Riverside, since 1960. Our certified technicians are expertly trained and make great use of the most advanced tools in our state-of-the-art service center.
They only use high-quality OEM Audi parts that come straight from the manufacturer so that you know you're getting the right parts for your specific model. We keep convenient hours here at Walter's Audi to ensure we're always open to meet your needs.
Service Reviews
"Even though this dealership is somewhat far from home but I always take my SUV Mercedes diesel to them for servicing and any repairs. I trust their work. Thanks to my service advisor for the awesome work coordinator, over a year now!" - Albert C. (DealerRater)
Contact us at Walter's Audi in Riverside today if you need your Audi engine replaced, rebuilt, or repaired.