For reliable Audi brake repair services near you and Audi replacement brake parts like brake pads and calipers, visit the Walter's Audi service center and parts department in Riverside. We are your local Audi service center and brake shop. 
Don't neglect regular brake service, as recommended by Audi. How well your brakes perform, under any weather or road condition, play a vital role in keeping you, your passengers, and others on the road safe.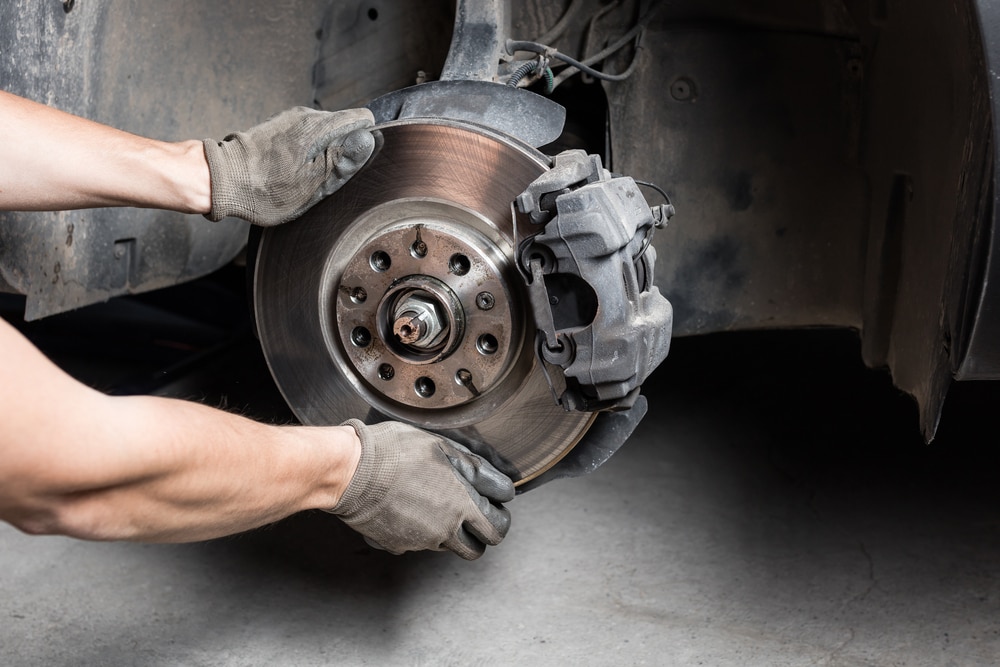 Do Your Audi Brakes Need to be Replaced?
It's always easy to tell if it's time to service your Audi brakes - issues stopping and noises are always reliable tell-tale signs. If you've noticed either, bring your Audi to the Walter's Audi service center in Riverside. Let our certified Audi technicians determine whether components need to be replaced, repaired, or serviced. 
Generally speaking, Audi brake pads should be replaced every 50,000 miles, but every car is different depending on a number of factors, such as your driving habits, the environment you drive in, the hardness of brake pads, and the materials that make up the brake rotor. Our Audi service intervals act as a handy guide to know when to bring your car in, but here's a few things you should be looking for:
Brake Pad Thickness: You should be taking a look regularly to see how thick the brake pads are. Whenever you get your tires rotated or your oil is changed, ask the mechanic to take a look at the brake pads, as well.
Squealing or Scraping Noise: At the very bottom of the brake pad, there are small metal hairs that make a squealing noise whenever the brakes are engaged. These are there intentionally to let you know when it's time to replace them, and it shouldn't be ignored.
Jittery Braking: Often, this indicated warped brake rotors. Some treatments can clean or grind down the surface in order to make it flat, but most of the time, replacing it is the safe and smart option. Our certified techs will let you know what the best option for you is.
How Much Does An Audi Brake Job Cost?
The cost of your Audi brake job depends on the work needed. If you contact us, we would be happy to give you an estimate, but we also encourage you to check our current Audi service coupon for ways to save on service and parts. 
How Do I Know if I Need New Rotors?
You can normally see your brake pads through your wheels. You should be able to see how much thickness there is left on the pad. At least one ¼ inch of brake pad needs to be visible. If there appears to be less, it's time to get them replaced. If your Audi brakes are beginning to make a squealing or squeaking noise, that can also be an indicator that it's time to get your brakes replaced.
Can I Replace Brake Pads and Not Rotors?
That depends on the condition of the rotors, but it is important to replace the shims and hardware for the brake pads when the time comes for them to be replaced. Rotors will need to be replaced by 70,000 miles on most vehicles. Rotors, like brake pads, should be replaced in pairs for even stopping performance.
Does Audi Care Cover Brakes?
Here is what Audi Care covers in regards to brakes:
Inspect brake systems
Check the pad wear
Check the fluid levels
Replace the brake fluid
Why Visit Our Audi Service Center For Brakes?

There's a reason that customers have been bringing their vehicles in for brake service at our dealership, which is located in the heart of Riverside, since 1960. Our technicians are expertly trained and make great use of the most advanced tools in our state-of-the-art service center. They only use high-quality parts that come straight from Audi so that you know you're getting the right parts for your specific model. We keep extensive hours here at Walter's Audi to better serve our customers. We're open when you need us to be so that you can come in when it's convenient for you. You can also take advantage of special discounts on service through our Walter's Automotive Legacy Savings Program.
Walter's Audi Service Customer Reviews
"I have been working with Walter's Auto Group for 25 years. During that time, I have had many opportunities to purchase other automobile brands and have chosen not to do so. Not only is it the quality of the vehicles that the Kienle family chooses to sell, it is even more important to me who they choose to represent their brand. My service advisor has been our family's advisor since our first Audi purchased from Walter's 15 years ago. I have owned 4 Audis and anytime I have had an issue or need scheduled maintenance, I have no hesitation contacting them to take care of my vehicles. " - Chris C. (Google)
Contact Walter's Audi in Riverside today if you need brake repair services. Get started by giving us a call.