Do you find that your Audi's steering wheel hasn't been tracking as straight as it used to? Are you noticing your steering wheel wobbling at high speeds? Can't remember your last alignment? Visit our authorized Audi service center in Riverside today. Our team of certified technicians can help with all of your Audi alignment service needs.
If you're adjusting your steering wheel often while commuting, your Audi could be due for a wheel alignment. To ensure a safe driving experience, you should keep up with this regular maintenance procedure. Our Riverside Audi service center is here to help you recognize some signs that you may need to schedule Audi alignment service.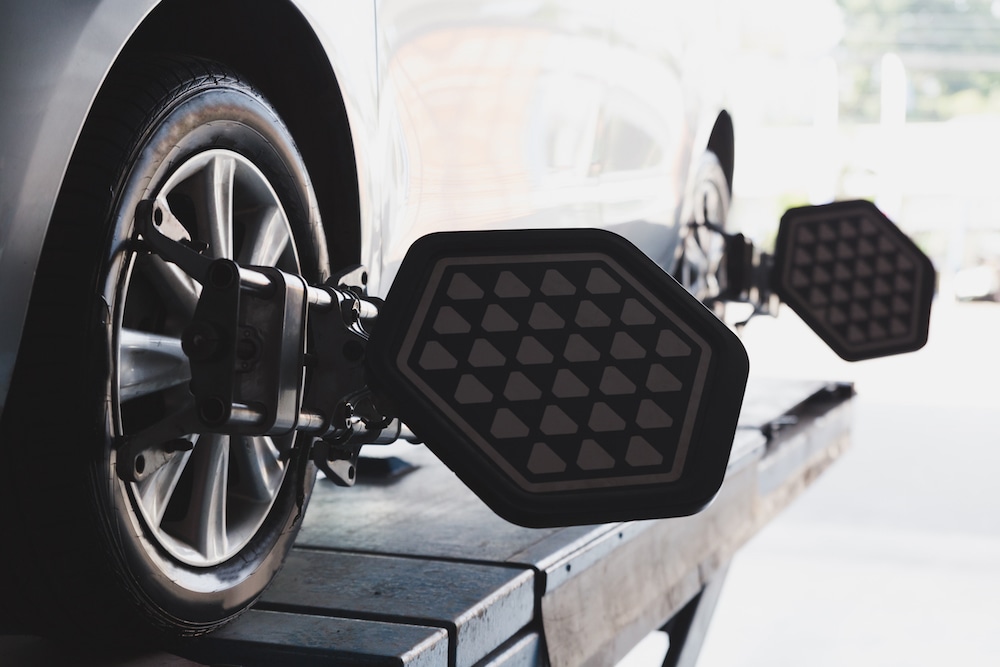 Signs You Need a Wheel Alignment
When you schedule an Audi alignment service, you'll not only be protecting your vehicle but yourself and your passengers as well. Here are some signs to look out for:
Sudden impacts: Potholes are an Audi's greatest enemy. If you find yourself hitting potholes often on your commute, you could be causing damage to your suspension components, which will throw your chassis out of alignment. These suspension components should be replaced before any alignment service is performed. 
Worn out parts: Suspension parts will wear down over time under completely normal operating conditions. Some of the Audi suspension parts that will eventually need to be replaced are ball joints, control arm bushings, tie-rod ends, sway bar bushings, wheel bearings, and upper strut mounts. Before performing an Audi alignment service, the certified technicians at our service center will perform a visual inspection and test on your vehicle's suspension components to ensure that the chassis is ready to be aligned.
Even if these signs aren't present, we encourage you to proactively take your Audi in for an alignment on a regular basis. When your vehicle is properly aligned, your tires will last longer and produce more optimal fuel-efficient results.
Why Visit Our Riverside Audi Service Center For an Alignment?
When our customers need their Audi sedan, coupe, or SUV serviced, they know they can trust our dealership located in the heart of Riverside. Our certified Audi technicians use advanced, quality tools in our state-of-the-art service center. 
You'll find that our service technicians only use high-quality OEM parts from the manufacturer, so you know exactly what your Audi is getting. We keep convenient hours here at Walter's Audi to ensure we're always open to meet your needs. 
Service Reviews
"I had a good experience when I called and scheduled an alignment. My service rep took care of the paperwork quickly and got me the loaner car to I could continue on with my appointments without delay." - Car Nut (DealerRater)
Contact us at Walter's Audi in Riverside today if you need Audi alignment service.