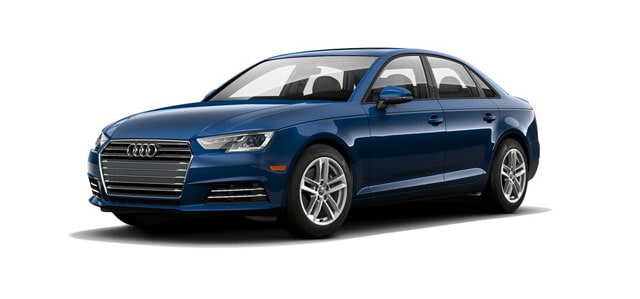 | | |
| --- | --- |
| Engine Oil & Oil Filter | Every 10,000 miles or every year. |
| Brake Fluid | Replace every 2 years regardless of mileage. |
| Brake System | Checked with annual service. |
| Battery | Check every 20,000 miles or 2 years, whichever occurs first; replace if necessary. |
| Tires | Checked with annual service. |
Reliable Audi service for your A4 in Riverside can be found right here at Walter's Audi. The skilled experts at our service center are ready to take care of scheduled routine maintenance and in-depth auto repair when you need it. Whatever you need, they have the tools and expertise to handle any Audi vehicle at our Los Angeles and Orange County area Audi service center. Scheduled routine maintenance is the key to keeping your Audi A4 running smoothly and preventing costly repairs in the future.
Follow The Recommended Audi A4 Maintenance Schedule
Keeping track of when certain maintenance is supposed to be performed on each part of your vehicle is tough with all the other things you've got on your mind. That's why our service experts put together this list of Audi A4 service intervals for Riverside area drivers, which breaks down when each one is recommended. There are parts that need to be changed, or at least inspected, and other fluids that need to be monitored frequently.
The brake system requires attention since it's an important component that does wear down after heavy usage on the crowded roads around Southern California. We can check the health of your discs, brake pads, and make sure your brake fluid looks good so you can be confident when you need to stop short. Other maintenance can help improve performance or fuel economy like tire rotations and tire replacement when the time comes. Tires don't have to be inspected as often, but monitoring the tire tread thickness on your tires is always smart as bald tires can make driving dangerous.
There are many different components that make up a vehicle and they all require attention at some point. Our Audi service experts are ready to perform any maintenance necessary to keep you behind the wheel and your car out of the shop. If you aren't sure when the last time you had your oil changed or your battery checked, just schedule an appointment at Walter's Audi and let our expert technicians look things over and let you know if anything needs to be replaced. If you have any questions about your Audi A4 or any other service, give us a call today. We proudly serve Los Angeles and Orange County area Audi owners.